What Are The Benefits Of Using Stamped Concrete For Your Patio In Del Mar?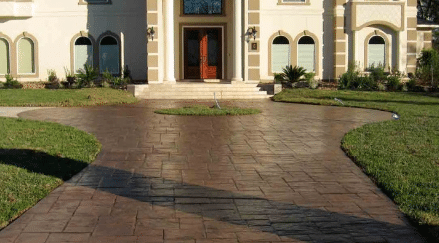 Concrete patios are a common feature in many homes and businesses, and stamped concrete is an increasingly popular option. With stamped concrete, homeowners and businesses can create a beautiful patio that adds value to their property, increases outdoor living space, and complements the aesthetic of their home or business. Here are five benefits of using stamped concrete for your patio:
Stamped concrete offers far more options for texture and design than plain poured concrete does. This allows homeowners to create intricate patterns and designs that not only look great but also last for years with minimal maintenance required.
Unlike other materials such as wood or brick pavers that may require periodic replacement due to weathering or wear-and-tear, stamped concrete is extremely durable and capable of withstanding the elements for many years.
Stamped concrete requires minimal upkeep, just occasional cleaning and resealing every few years to keep it looking good as new. This makes it an ideal choice for busy homeowners who do not have a lot of time to spend on maintaining their patio surfaces.
Compared to more traditional materials used for patios such as brick or wood, stamped concrete is often a much more cost-effective option.
Stamped concrete can be used to create virtually any pattern and design imaginable, so it can easily be customized to meet individual tastes without losing its functionality or durability. Furthermore, it can also be colored with special dyes for added beauty and interest.
FAQ's
Why Should I Use Stamped Concrete?
Stamped concrete is an attractive and durable option for patios that is also low maintenance and cost-effective. With a wide variety of patterns, textures, and colors available, stamped concrete can be customized to meet almost any design need.
How Long Does Stamped Concrete Last?
Stamped concrete typically lasts up to 25 years with proper care and maintenance. It is a very durable material that can withstand extreme weather conditions and heavy traffic with minimal upkeep needed.
What Is A Stamped Concrete Patio?
A stamped concrete patio is a decorative outdoor surface made of poured concrete that has been imprinted with a pattern or texture. It can be used to create patios, walkways, pool decks, and other outdoor features. It is a popular choice because it is low maintenance and cost-effective compared to other materials.
Conclusion
It is no wonder that stamped concrete is a popular choice for patios. With its attractive aesthetic appeal, durability, low maintenance requirements, cost-effectiveness, and versatility, it is the perfect material to create a beautiful outdoor living space. For more information, contact our professionals from Concrete Contractor Del Mar at (858) 314-3534.