What Are The Creative Decorative Concrete Ideas For Your Yard In Del Mar?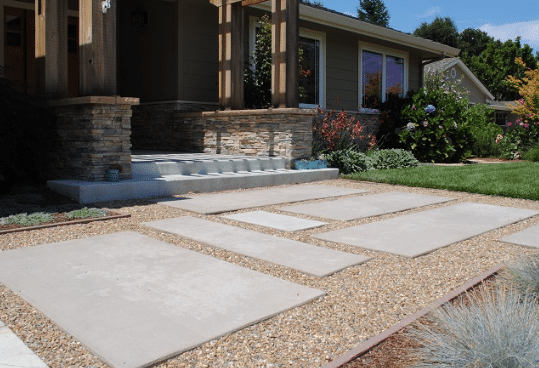 Gone are the days when concrete was considered merely a functional construction material. Today, it has evolved into an essential design element, effortlessly transforming yards into aesthetically pleasing outdoor spaces. Here are seven creative decorative concrete ideas for your yard that are sure to ignite your imagination.
This technique imitates the look of stone, wood, or brick at a fraction of the cost. The versatility of stamped concrete allows you to customize its color and texture to match your landscape or home's exterior, adding charm to your patio area.
Liven up your garden pathway by opting for colored concrete. Acid-staining is a popular method to achieve this look; it imparts vibrant hues to the concrete, giving your walkway a visually striking appearance.
A fire pit can be a cozy centerpiece for your yard. Constructing it with decorative concrete allows you to choose between various styles and finishes, like a smooth, rustic, or textured look.
Outdoor furniture made from polished concrete is not only sturdy and durable but also adds a modern, minimalist touch to your yard. Think benches, tables, or even sculptural pieces.
Retaining walls can serve a practical purpose while enhancing the aesthetics of your yard. Decorative concrete retaining walls with intricate designs can provide a striking contrast to the greenery in your garden.
From birdbaths to sundials, garden ornaments can add character to your outdoor space. Use decorative concrete to create unique, weather-resistant pieces that reflect your personal style.
A water feature is an elegant addition to any yard. Use decorative concrete to construct beautiful fountains, cascading waterfalls, or serene koi ponds, creating a soothing ambiance.
FAQs
How Long Does Decorative Concrete Last?
Decorative concrete is not only attractive but also incredibly durable. With proper care and maintenance, it can last for decades. Sealers and protective coatings can be applied to enhance its longevity.
Is Decorative Concrete Expensive?
The cost of decorative concrete varies based on the complexity of designs and the type of finishes used. However, compared to the use of traditional materials like stone or wood, decorative concrete often proves to be a cost-effective solution.
Can Existing Concrete Be Turned Into Decorative Concrete?
Yes, existing concrete slabs can be transformed into decorative concrete using techniques like stamping, staining, or engraving, thereby revitalizing your old yard area.
Conclusion
Decorative concrete offers endless opportunities to enhance the visual appeal of your yard. It blends functionality with design, offering an exciting palette of textures, colors, and styles. Incorporating these seven ideas can transform your yard into a delightful outdoor haven that combines durability with aesthetic appeal. Embrace the versatility of decorative concrete to create a space that reflects your personal style and complements the beauty of your home. For more information, contact Concrete Contractor Del Mar at (858) 314-3534.