What Are Simple Concrete Patio Design Ideas For Your Home In Del Mar?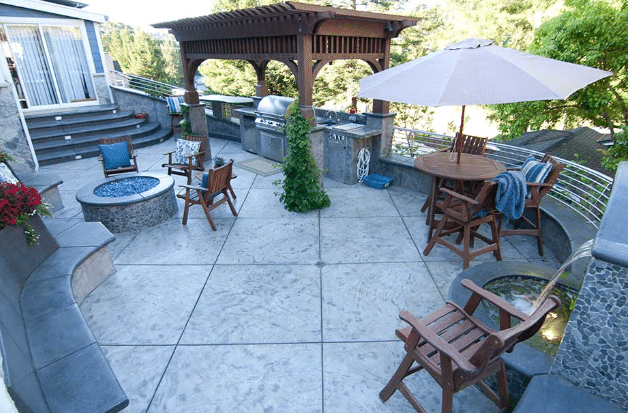 Concrete patios can be a great addition to any home. Not only do they provide a space for outdoor entertaining, but they are also extremely durable and easy to maintain. With so many design options available, it can be hard to choose just one. Here are 7 simple concrete patio design ideas that could work with almost any style of home:
An outdoor living room is the perfect way to make use of your patio's space. You can add furniture such as chairs and tables, as well as other features like fire pits or water features. This kind of design allows you to entertain guests in style while still enjoying the outdoors.
Patterned concrete patios are a great way to create visual interest in your outdoor space. You can use different shapes and colors to form patterns that will stand out from the rest of your patio's design.
Exposed aggregate is created when stones or other materials are mixed into the concrete before it dries. This creates an interesting texture that adds depth and dimension to any patio design.
Seating walls are a great way to add extra seating without taking up too much space on your patio. These walls can be made from various materials, including brick, stone, and even concrete, and they provide you with additional seating while also acting as a mini barrier between your patio and the rest of your yard.
For homeowners who want to make more of an artistic statement with their patios, painting a mural on the concrete can be a great option. Whether you hire an artist or do it yourself, this is sure to create a unique and eye-catching look for your patio.
Lighting can be used to enhance any design, including concrete patios. You can choose from various styles such as string lights, solar lights, floodlights or even tiki torches depending on your preferences and budget.
Adding plants can bring life to any outdoor space, including concrete patios. Choose plants that can withstand the elements and won't be too difficult to maintain. Planters are a great way to do this, as they will add color and texture while protecting your patio from any water damage.
FAQ's
How To Design A Perfect Concrete Patio?
Designing the perfect concrete patio involves choosing the right materials, coordinating colors and textures, and incorporating elements such as seating walls, lighting, plants, and other features that will make it an inviting space for you and your guests.
What Are Some Ideas For Decorating A Concrete Patio?
Some ideas for decorating a concrete patio include adding furniture like chairs, tables or outdoor lounges; painting a mural; installing lighting; adding exposed aggregate to create texture; incorporating seating walls or planters with plants; and creating patterns in the concrete.
What Material Should I Use For My Concrete Patio?
The best material to use for your concrete patio depends on your desired look and budget. For example, stamped concrete is a good option for creating patterns and textures, while pavers are more durable and provide more design options. Stained or painted concrete can also be used to give your patio a unique look.
Conclusion
Concrete patios are an excellent way to add extra outdoor living space to your home. With so many design possibilities available, you're sure to find one that fits with your style and budget. For more information, contact Concrete Contractor Del Mar at (858) 314-3534.